It is no secret that Spain has one of the highest electricity prices in Europe.  Have you ever wondered how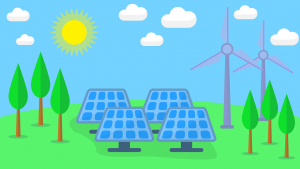 could this be?  In a country and province where there is more sunshine than anywhere else in Europe, the country has lagged behind taking advantage of this renewable energy source and at one point they even made it illegal for us to make use of such renewable energy supplies.
Of course, with over 43 Spanish politicians sitting as board directors in the various electricity / energy companies in Spain, no wonder that they would do all that is required to stop their income being reduced.
The good news is that the Europe Parliment has fought back and you can now take advantage of this free and renewable energy source to power your home and or your community.  The problem was that until 12 months ago the electricity price per kwh was still so low that the return on investment for these solar panels or wind turbines was way too low.  However the past 12 months we can observe a huge rise in the electricity kwh prices and additionally new changes that have practically doubled the price during peak hours of 10:00 to 14:00 and 18:00 to 22:00.  This in effect means that your last electricity bill should have easily been some 10 to 30% more expensive if not more.
If I were to compare my own personal invoices for the month of September in 2020 and 2021, I can see a huge difference.  In my invoice of last month September 2021 I have paid 70% more than in Sept 2020.  In fact in September 2020 I used 158 Kwh more and paid €43 less, or in other words, my average kwh price in Sept 2020 was  0.15€/kwh and now my last invoice was 0.27€/kwh. Yes this is 70% more expensive and this is taking into consideration all the new discounts and lowering of the VAT (which itself is another crime and another article).
Luckily, I have space on my roof and I have finally decided to go fully solar.  The calculation works out that I could practically pay 80% less or save somewhere between 100 to 200€ / month on my electricity invoice.
The good news is that you too can now install solar panels for personal use or for a community as a whole.  You are no longer stuck in a situation where you the only person who can benefit from solar energy is the one with a roof.  The savings would be huge.  You must of course check where the installation is going to be made, comply with all community rules and regulations but the savings are now well worthwhile going through all the procedures and it is legal.  Your community can opt to do this as a communal service, owners can decided to join or stay outside.  For those who wish to join they can share the costs and benefit and for those who do not wish to join and change their mind at a later date, they will have to pay the difference plus any interest.
The current increase in electricity prices makes the use of renewable energy well worthwhile for all communities in particular in the south.  We have more than 300 days of sun and the average temperature is idea for solar energy.  Furthermore, did you know that the local residents of Costa del Sol used to call this place Costa del Viento?  Yes it was known as the Windy Coast (refer to this article for more).  You surely have noticed that we equally have a good amount of wind here on the coast.  Take advantage of these renewable sources, reduce your energy bills and spend that money elsewhere 🙂
 If you want to know more about the legalities of the use of renewable energy in your community you can follow up in this article which is in Spanish by legalitas