There was a certain magic to this meeting.  We launched this initiative a few weeks ago, I had already agreed for the first meeting with someone I knew and as soon as we made our first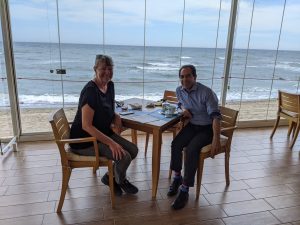 Facebook post, we received the first sign-up.  It was a great moment that proved the initiative can work. The sign-up was from Letteke Poncin, president of Los Rosales mancommunity in Calahonda.  As my partner, Alexandra jumped with joy announcing this first registration my daughter Claudia claimed that she knows her really well. Of course, Letteke and I have known each other for many years as we both belong to the same running club and each time I take my daughter along with me, it is Letteke who takes care of her and walks all the way with her.  With a quick phone call and a few WhatsApp, we agreed to meet in El Capricho beach restaurant in Calahonda on the 20 April at 2 pm.
I happened to have had a quiet schedule that day and taking advantage of it, I arrived at the restaurant at 1 pm so that I could read my book and relax prior to the lunch meeting. It was a mild day, not too cold and not too hot and we could have sat inside or outside.  Tough choice, but I don't like to sit in direct sun and prefer the shade so I decided to ask for a table inside by the full glass window right in front of the beach.  The sea was calm and serene to look at.  I could have sat there just watching the waves slowly move in and out but the book was nagging me to read it.
Letteke seems to have arrived sometime between 1 and 2 pm but she was sitting outside and as I had my face buried in my book I must have missed her passing by the entrance.  Nevertheless promptly at 2 pm, she came looking for me and found me sitting inside.
Our initial conversation immediately skewered towards our running club, walking, the restrictions, and the problems that go with it.  We are both avid walkers, runners, and bookworms.  She told me about her love for science fiction and how these types of books can open our views and set the trend for a better future.  As a child, she fell in love with these types of books and in particular George Orwell's 1984 novel. I had read the Animal farm but admitting with some shame, I had not heard of this one.
Letteke's background is in Finance and she has worked most of her life for Marriott's as a CFO.  She arrived in Spain because of a role at Marriot's Marbella resort and that's how she ended up buying a property here and not long after settling in her new home, she was off to all corners of the world always working in different resorts for the Marriot group.  Her stories about the diverse locations she has worked in and the stories behind them are fascinating but another story. She said that when she was appointed the president of the community it was amidst all her work abroad and because no one else wanted to do it, she accepted it hoping that it would not take too much time off her hand.   For the first 9 years, they had another owner with whom she did a rotating role and she has been running it solo for the past 5 to 6 years without change.
One of the hardest parts she has had to deal with as a president is having to deal with the legal structure of the community and the mancommunity.  In Spain, a community can be part of a bigger community where the land and services are shared.  This structure is known as the mancommunity and the problem in these types of structures is that if a community owes service fees to the greater mancommunity then the law for reinforcing and debt collection is not as easy and simple in the procedure. It is upon each community to collect these fees from each individual owner within that community and proceed with legal actions if they don't pay.  The mancommunity cannot directly claim against those owners or impose an embargo on the property of the debtor.  This of course is also dependant on if in the constitution of the mancommunity it was agreed to charge the service fee direct to the owner or to the mancommunity.  From personal experience, I know that when I was president of our community and mancommunity we had this problem and the setup was such that each community was responsible for collecting fees directly from the owners of that block and that they would then contribute to the mancommunity.  For the few years, I was the president of the mancommunity the other community did not pay a single fee and I doubt that they can ever recover any of that debt.  This is of course to the best of my knowledge and experience, I am not a lawyer or an administrator so speaking only from experience in this instance.
Our lunch had been served soon after we ordered. Letteke is allergic to seafood, however, this is her local restaurant and she loves the hamburgers here, so she orders a full hamburger and a coke. I get recommended the sea bass and I opt to have a shandy as well.  I seldom drink alcoholic beverages during the day but for some reason the past few days, I have had this urge and joy in having a few shandies. A beer would have been too much J.  My sea bass was light and delicious; I clear my dish in a flash while I have kept Letteke busy talking about her community and all the different administration companies they changed and why. She has barely finished half the hamburger and I feel guilty as it must be getting cold but also the conversation is hot and interesting.  It seems that we must have one point used the same administration company that closed down in 2007 due to bad health of its manager.
When I ask her how administration companies can improve their services she says "By being impartial and offering a better service. They have to understand that they need to inform and provide their clients, the community, with options and not commands.  They should not take part in the decision making and respect that they are a service provider to the community."   She mentions in particular how difficult it was at times to get service from some of their Administration companies in the past and how many times they had to change them as service providers.  Equally when looking for a new administration company they had to write off a few as she did not see that they could respect the client/customer relationship that she believed is key to good service.  She has finally managed to find one company who is giving the service they need and is very happy indeed.
Letteke has finally cleared her plate as well.  It is desert time and the list is long, she opts for another Coca-Cola while I decided to have a Tiramisu and a green tea.    We joke about the fact that how we have each had to learn about being the president of a community but there is nothing out there that can teach you to get started and run the show.  One basically applies their expertise to the subject/position.  In her case, she was a number person and in my case, it was how I applied my IT knowledge to creating a web service for communities, presidents, and administrators and then making sure that the software can be used by any other president anywhere in the world.
Our conversation on community issues and stories has almost ended but we can't stop talking about books, running, public speaking, women's rights, and ….  By 5 pm I mention how much I have enjoyed getting to know her more and how much there was that we did not know about each other even though we knew each other all these years.   She had left the full afternoon free for us to talk, yet I am conscious of the fact that I have to pick up my father who is equally needy of my attention and only here for another few weeks!
We say goodbye, hope to repeat soon and she walks back home just a few minutes across the road.
Are you the president of your community and would like to share your experience, expertise and anything you want to discuss?
Book your free lunch with the Presidents Club here: