The Presidents Club has been on hold for some years now.  We stopped activity as another company had created confusion amongst our customers by setting up as "The Presidents Club International". Needless to say, we won the court case, however, in the interim we had ceased our activity to avoid confusion for our clients.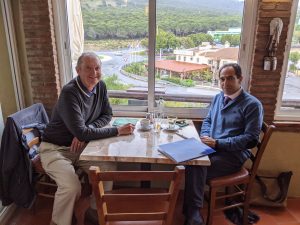 We are now back and looking forward to starting again and today marks a big turning point in our journey.  Last year as I was about to start the Presidents Club quarterly meetings and forums the Covid19 stopped us dead in our track.  For a while, I thought of doing online meetings, forums but I knew that many people are getting tired of all this online activity and I personally had had enough.  Early September 2020 I thought of doing one-to-one lunch sessions with presidents. I have been reading the Financial Times weekend for over 20 years now and one of my favourite sections is Lunch with FT.  I had always thought about doing something similar on the Costa del Sol but wasn't quite sure about the target group.  Now I had my target group.
I asked my marketing team (aka, my partner Alexandra) to create a landing page, and before the page was even up I had an email from one of our very first clients and users of the Urbytus system.  Charles Edwards, the president of Las Delicias had some questions about our system and I thought this would be the best opportunity A) To start the club, B) Meet with an early client/friend C) Thank him in some way for staying with us as a customer for so long and above all answer his questions.
After a few emails, we agreed to meet at La Boma in Coin at 13:00 on Wednesday 14th of April.  On the day I arranged to arrive a bit earlier to relax and prepare however upon arrival at 12:30 I saw a sign saying that the restaurant does not open until 13:00.   Well, the car is as good as any co-working space to work, and with my super-thin ZenBook, I have worked many hours in the car while waiting for this meeting or that meeting.  At 13:00 I walked into the restaurant and as I ordered a coffee and water, my guest walked in through the door equally as punctual with a big smile and happily announcing that he has just received his Covid jab an hour earlier.
Charles Edwards is a chartered engineer and served in the Royal Airforce for 41 years and when I asked him about which countries he had visited, he said it would be easier to ask which countries he hadn't visited.  His wife pretty much had to give up her career to move around the world with him, so when he finally retired she suggested that they move to Spain where she had family roots. So in 2007 Charles and his wife bought a place in Urbanization Las Delicias which is one of the sought-after locations in the road up to Coin from Fuengirola/Mijas.
When I asked him about how he became the president of the community, he explained that the person he purchased the house from was a committee member and told him that it would be good for him to join the committee and this would allow him to stay informed about what is happening in the community.  After less than a year the then-president walked out and he reluctantly accepted the role as interim president.  Community presidents are elected by the owners every year.  In many communities no one wants to be the president because of all the problems and headaches that it involves so it rotates on a yearly basis from one owner to the next and in some, if no one agrees to be president, they do a hat draw.  The hat draw is rather a risky one and many people take up the role as president with the aim to do their best under the circumstances.
In Charles's case, he was more than capable. He had worked with 7 to 8 digit project budgets and managing a community with a 5 digit budget was a no-brainer.  In fact, he proudly claims that when he took on the role of being the president he started the year with a budget deficit, and today in 2021 the community has a very healthy 5-figure reserve.  His achievement and dedication to the community speak for themselves.  Over the past 11 years, he has battled through with the Town Hall in Coin to finally build a fruitful relationship where the new mayor has actively helped by digging a new water well and paying for the replacement of water pipes in several streets.  He quotes that this was one of his hardest tasks as a president and it took a lot of effort and complaints to higher authorities to make this change.  Thanks to Charles Las Delicias and many other communities in Coin now enjoy a much better relationship with the owners feel that the town hall and is now providing them with value for the property tax they pay.
His advice to fellow presidents is "Listen to the owners and address their concerns.  Seek value not just by cutting costs but by getting a good service."  He specifically mentions that he asked the committee to allow him to pay the gardening company a 5% increase.  For years they had done a wonderful job and had not raised their fees and he was so happy with their work that he only thought it would be fair to compensate and respect their efforts. He adds "If you waste the funds and bring poor workmanship then you will get lots of unsatisfied owners".
The food is always good at La Boma. I went for the usual green Thai curry with shrimps and Charles chose the pork belly.  We had also ordered the soup of the day Broccoli & Spinach with blue cheese which we both thought was exquisite.  When we asked for the recipe we were told that it is a secret, I guess we will have to go back to be able to enjoy it again. Our main dish was equally delicious and plentiful. Charles mentioned that he has plenty of time nowadays and that he enjoys cooking while I commented that I hardly get the time and chance to cook these days.  The food was delicious and plentiful, I never like to leave anything on my plate and I hate wasting but in the end I left about a spoon full of rice, yet we both thought that we still have some room for dessert.  Looking at the dessert menu all we thought that could fit in was ice cream, but when the ice cream arrived we thought maybe we should have just ordered one and share, yet it was so delicious that both of us managed to scoop up most of it without any complaints about the added calories or weight.
My final question for Charles was "How do you think Administrators could improve their services?"  After a short pause he said "by creating a closer connection, so much goes on within the community on a daily basis that the administrators are not aware of.  They are often too busy turning the handle and just going through the process.  They need to become proactive in the management and service to the community."  I couldn't agree more. We finished the conversation talking about the main and general uses of the Urbytus website.  He agreed that it is certainly of help for communicating, sending registered notifications, and handling important documents.  Although the daily usage is low and people tend to socialize on Facebook, I mentioned that when he needs to hand over the post of the presidency to the next one, it will make his job very clean and simple.  He smiled and said that "Well that may take some time".  A problem that many communities face, being the president is often a thankless job where you can end up being scrutinized for the work that you do even when it is done with.