We are back.  It seems that no one wanted to have lunch with us during the winter but the pace is picking up.  Last week I had lunch with Flemming Pedersen president of one of the communities in El Higueron and next week I will be meeting another committee member from Los Altos de Marbella.
However first thing is first and that is my lunch and interview with Flemming.  We agreed to meet at the Nirvana Indian restaurant in El Higueron.  As it turns out Flemming has travelled extensively throughout India and he enlightened with his knowledge of the food, the area and much more.
I am always intrigued by what attracts people to the Costa del Sol so one of the first questions to any president I meet is what brought you to Spain and in particular Costa del Sol.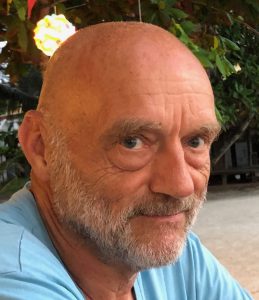 In Flemming's case, and his partner they were looking for somewhere quiet for retirement and while they initially looked at Florida they later found out that Malaga offers a similar climate, it is closer to their home where they spend most of the summer time and also offers a cosmopolitan atmosphere and culture.
After travelling extensively through India and the world Flemming returned to Denmark to teach educational theory and psychology at university. I find it a privelage to be able to speak and learn from such people.  Here I am selling my software to them but at the same time picking their brain about their experience in all walks of life.
Flemming decided to take over the presidency in order to improve communication.  Their community is administrator by Sagesa which already uses our platform and it just happens that the person in charge of her community is someone who used to work for me. We both agreed that she is one of the most efficient people we have known.
I am always interested in the stories of my clients and the community presidents.  Their life stories are almost always so fascinating that I always forget to take a picture.   Lunch has been long consumed,  I have hardly taken any notes and we are halfway through our desert "Mango Kulfi" a frozen Mango puree with whipped cream.  I am mindful about the calories and putting on weight but we both admit that it is delicious and munch away.
My final questions of the meeting are always along the line of "What is the best and worst part of being a president?" Flemming is new to the world of community presidency but he adds that although the job is demanding, the best part is that majority of the owners in the community in one from or another say thank you for his hard work.
He is determined to make the most out of our communication platform  urbytus.com  we have already uploaded all the information, he has created many job lists and welcome letters have been sent out.  He adds "All I need is learn to be patient with the "mañana" response".
We say goodbye, as always lunch is an invitation by Urbytus and I enjoyed the conversation and the company so much that I forget to take a photo of us and have to ask for a photo at a later date for this article.
Do you want to join me for lunch?   Be my guest.  Book a free lunch by clicking here.