Writing good articles takes practice and effort.  This morning I was reading the Financial Times and an article from Lucy Kellaway on how she used to do her interviews for the FT and the techniques she used to get the answers she wanted.  I don't have the same items on my agenda as I am not seeking to pull out anything from those I interview and my only objective is to share their experience as well as network in order to promote my business. Yes, I have to be honest on both objectives as otherwise it would make no sense and anyone would see right through it if I claimed otherwise.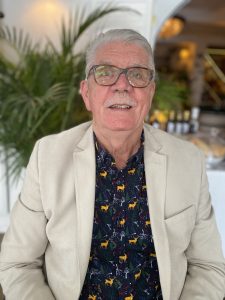 Today, I have the pleasure to have lunch with Sidney Owen.  Sidney has been the president of Las Terrazas de Santa Maria Golf in Marbella, for the past 5 years. Our meeting place today, Da Bruno in Cabopino.  It was my suggestion and choice but equally welcomed by Sidney.  I arrive as always 30 minutes in advance of our meeting to choose a quiet table and also to relax a bit before lunch. Sidney arrives at 2:00 pm on the dot.  Punctuality has been one point common to all presidents I have interviewed so far.
Sidney's community is a customer of our software and website service for communities (Urbytus) for nearly 10 years and I have exchanged many emails over the years with Sidney, however, apart from these emails I actually do not know him personally.
After reviewing the menu, Sidney mentions that he will order only a Cesar Salad as he is watching his weight, but allows himself a beer to go with it. I admit that I also have to watch my weight and that over the last year I have also put on weight and not been out running as much as I used to; nevertheless, I order pasta with shrimps and carbonated water to drink.
I explain the purpose of the lunch meeting and I dig in with my first question, "What is your background and what brought you to Spain?".  This is where I have to refer back to the beginning of this article "practice and effort".  As Sidney starts describing his background and life, I was so intrigued and interested that I forget to take notes altogether, as such I find myself having to go back to him a second time via email to ask for some clarifications and corrections.
Sidney was born in England in 1946 and started working as an electrician in the mines while continuing his studies and obtained a Mining Engineering Degree.  Shortly after he had finished his studies  (around the year 1972) the mining unions called for strike action and being a little disillusioned with this action he found himself with a job offer to travel to Libya for Esso Standard Libya (An Oil Production Facility).  That was the beginning of a long overseas employment career which included, Singapore, Venezuela, Columbia, Yemen, back to Libya, and completing his career on a copper/gold mining project in the Gobi desert in Mongolia.
I have always been fascinated by people like Sidney who see life as one big opportunity. On his last assignment which was in Mongolia, whilst celebrating his birthday with his colleagues at temperatures below -20 degrees Celsius, one of his colleagues asked him, "So how old are you Sid?" whilst answering that he was 67, he recalls thinking to himself "what am I doing here?" The following morning he informed his boss that this was his last trip to Mongolia and soon after he retired with his family in Spain where they owned a property.
Sidney has been living in Spain full time since 2013 which he considers home and where his wife and daughter had been living for the past years prior to him retiring. They say it's a small world and it is.  Sidney's daughter and I went to the same school (with almost a 20-year gap difference).
When I ask him why he chose to be the president of his community, he has one simple and straight answer, " I knew I could do a better job".  After all with his experience and background, it is a no-brainer.  He mentions that the previous president was a good person but kept tight control on everything and as he had decided to sell his property this opened up the opportunity for Sidney to stand as president of his community.
To my question "What is the best part about the job" he simply responds "when someone thanks you without adding a but".  I often hear that a president's job is a thankless one. In some communities, there is some remuneration such as wavering of community fees and in others, there is a small budget to compensate for expenses and invariably what I hear from most presidents is that they know they have been doing a good job when people thank them without adding a but.  This is enough satisfaction and joy to allow most people to continue with this arduous position against all odds.
The toughest part of the job for him however has been keeping within the budget.  He has plenty of expertise in this so to speak, but with facilities of nearly 20 years, it is normal that wear and tear costs increase every year, keeping within budget becomes more difficult as time goes by.  Sidney particularly dislikes spending more than the agreed annual budget and creating extraordinary budgets.
My final question is, "How do you think Administrators could improve their services?"  Before answering this question both he and I discuss his current administration company.  I have known the manager of the company, I personally find him very pleasant and so far have not heard of any negative feedback from the communities he works for or those owners and presidents that I meet. He comments that he also feels the same and having known Mr. Walsh from before the time he had become president of his community. To answer my question he says that it would be good if all community services, including that of the administration, are put to tender every few years. This will ensure that at all times all providers keep to high standards work efficiently and at a reasonable cost.
It is 16:30 and our conversation is still not over.  Sidney is fascinated by Uber, Amazon, and all the advances in technology.  We discuss many of the upcoming changes and the past 10 years of how technology has enabled us. He embraces change while he thinks many others are still lagging behind times.  We could carry on a bit more however I am mindful of Sidney's time. I have enjoyed meeting him, learning about his past and experiences of running a community.