Technology has driven us to an era where the physical and digital worlds are finally connecting in a smart way.
Rarely had you seen different stakeholders such as sensor manufacturers, crypto traders and machine learning programmers come together under the same roof, sharing the same vision and showing a real disposition to collaborate.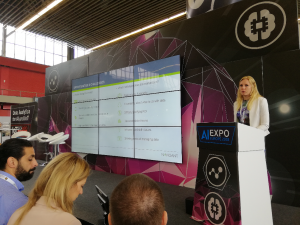 Even more, to find packs of investors and big IT firms showing such an active interest in a room full of ideas absolutely new to them.
This is exactly what happened in Amsterdam these last couple of days.
It is time for new technologies such as IoT devices, machine learning and blockchain platforms to take the centre stage and show the world how things are going to be done in the very near future.
Lift your screens from the mobile phone, the digital revolution is taking place in the real world surrounding you.
For some of the 45+ year-olds in attendance (they made up an important part of the demographics in the event), it must have felt like TCP/IP and HTML era all over again. Exhibitors showing off their products, trying to become the industry standard in IoT data gateways, crypto trading, blockchain security, and so on.
Some technologies and startups showcasing at this threefold expo will probably be extinct by the time of a 2019 version. But there was this feeling of "some of these guys will be the next thing" in the air that made this event so special.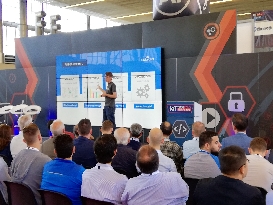 A few takeaways from these two days of geekiness:
Traditional investors are coming into the crypto game through security tokens. Through different panels, there seemed to be a consensus among VCs and industry leaders: security tokens are a great way to raise investment –either form the crowd or from business angels or capital funds— because they enable them to bypass the traditional bureaucracy and allow for faster exits in crypto markets.
It is the time to invest in new protocols and software platforms that will connect IoT, AI and blockchain. Again, a widespread consensus in this regard: this is the time to bet on the next industry-standard protocols and software that will drive and connect the next generation of smart technology. To the dismay of the IoT manufacturers, it was explicitly mentioned that –at least at this stage— investing in devices is not attractive enough due to slow times for return on investment. It will be, though, but patience will be required and returns may not be too spectacular. Right now, it seems like most investors would rather take a gamble on the next industry-standard software or protocol. It is capital at risk, after all, so they are looking for potential software unicorns.
Some of the technology has been available for a while, but they are finally becoming commercially viable. This is where companies like Amazon and Google are really improving the whole ecosystem, by allowing small firms to integrate with solutions such as Alexa and Duplex. There was the example of Dutch startup Slide, smart devices for "legacy" curtains at home, making them open up in the morning like an alarm clock, or to open and close while you are on holidays, Home Alone style. They successfully crowdfunded through Kickstarter in 2016, but it is only this year that big players have started proactively inviting suchlike startups to integrate with their solutions. Which leads us to…
Bigger corporations are willing to listen to smaller companies. Firms like KLM and IBM have in-house development teams and experimental environments, for sure. But they are more than happy to partner with –and even fund—smaller startups that can develop, test and improve some solutions in a faster way.
Blockchain 1.1. Blockchain was cool last year. Things were blockchained and tokenized only because it seemed that it was the right thing to do, without looking at the real potential and viability of the technology. Now is the time to kill some of the overkill. Blockchain only where it matters, simplifying concepts like proof-of-work (SNARKs), while at the same time looking to create new business models with the technology. It is too early to see how it will be done, but the need for some common sense and change is evident.
There was certainly a lot more going on in all the different stages and also behind the scenes at this expo. We look forward to learning how the media and the tech world react to some of the deals and partnerships emerging from the combined IoT, AI and blockchain world that gathered in Amsterdam.